Review response templates settings
From the menu, you can create any template with two fields :
Title : useful to select and manage easily all your templates
Description : Will be fill the review response
The order of your template list is by alphanumeric. We suggest organizing the information in your title in the same way for all your templates.
You can modify your template when you click on the Title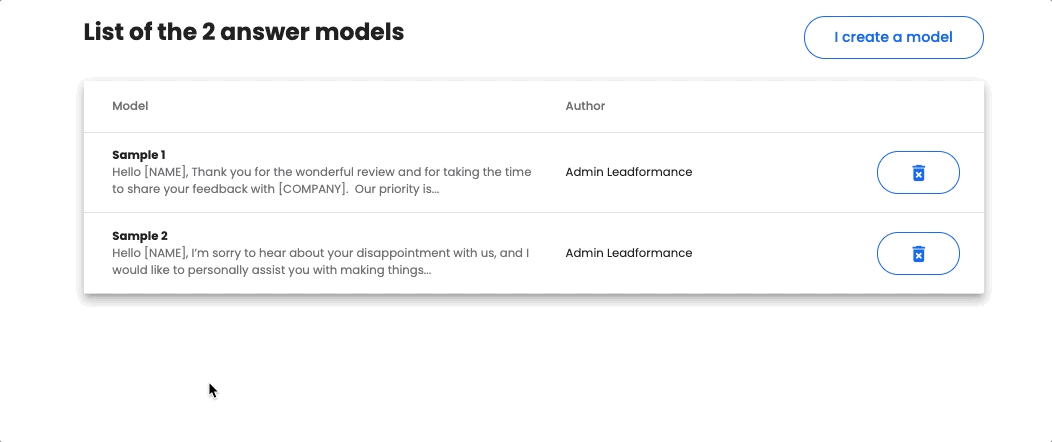 How to use a template
When you click to response to any review, a new dropdown list shows all template created in your account.
You just need to click to any one template and your answer is automatically fill by it. After that, you can change your answer as you want or click to another template.
Some examples
Good reviews
Hi [NAME],
Thank you for the 5-stars! Hope to see you again soon!
Hello [NAME],
Thank you for the wonderful review and for taking the time to share your feedback with [COMPANY]. Our priority is customer service and we are ecstatic that we met that mark! Kind folks like you make our job a pleasure.
Bad reviews
Hi [NAME],
Sorry to hear your experience was less than 5-stars. If you're open to discussing your experience further, please call/email us at xxx-xxx-xxxx/email@brand.com.
Hello [NAME],
I'm sorry to hear about your disappointment with us, and I would like to personally assist you with making things right.
Let's get on a call and address this ASAP, we value your business. Please contact us at [phone/email] when convenient.
Hello [NAME],
We understand your disappointment. It's important to us that our customers are more than satisfied and we would like the opportunity to resolve this issue immediately. If you give us a chance, we are intent on making this right and hope you will allow us to speak with you to discuss the situation.
Please reach out to us directly at [phone] at your earliest convenience.
Review response template best practices
Keep your brand voice consistent.

Rotate your templates.

Include contact information.

Templates don't work for every review – when in doubt, write it out.